Polysun by Vela Solaris with advanced BIM functions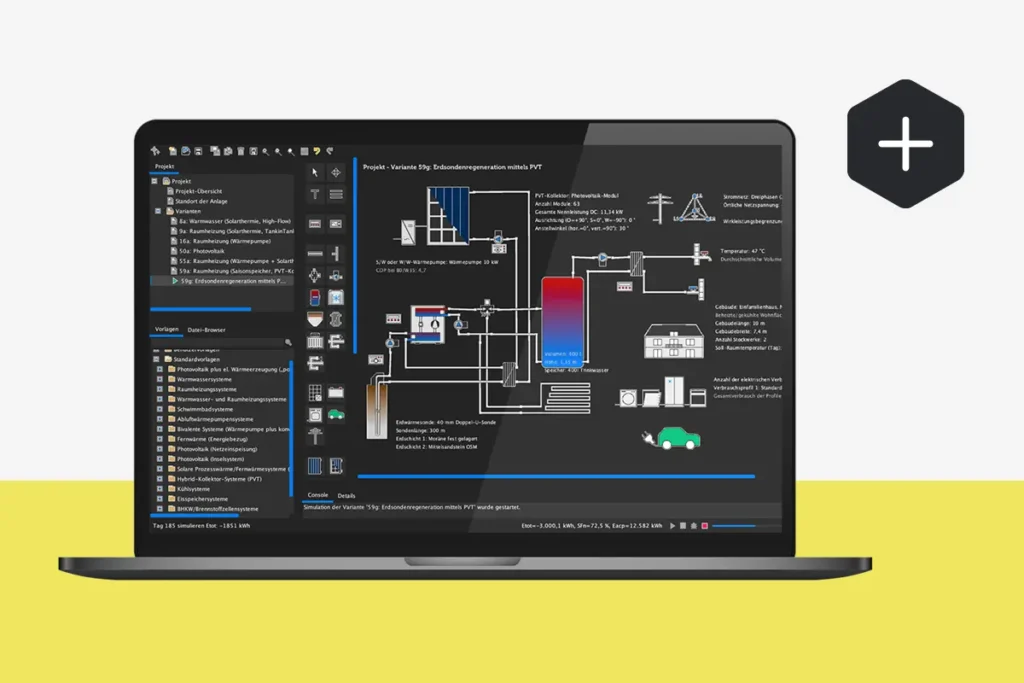 Software enables digital simulation of energy systems for holistic, optimized and visionary construction projects also in BIM projects
Winterthur, CH, June 08, 2021 – Vela Solaris AG announces a new version of its software add-on Polysun® BIM. With the new version, import interfaces can be defined so that data can be integrated into the simulation software even more easily and quickly. The automated data import for heatload and meteo data is supported with a wide variety of sources and is independent of the data formatting. Thus, exactly those data can be automatically imported and continuously updated that are necessary for further simulation-based planning in Polysun. In addition, plan specifications from the BIM project can be conveniently stored for the energy system and results can be evaluated at the push of a button. In this way, requirements for the energy system in terms of comfort, funding criteria and system efficiency are visible during every planning phase. Polysun BIM also offers software-supported plausibility checking of input data, enabling the highest process quality and minimizing manual errors.
Digital planning processes are becoming increasingly important, as is interdisciplinary collaboration. Simulation is an integral part of efficient and cross-technology planning of energy systems. With the Polysun BIM Add-On, all energy system results remain transparently documented and deliver added value up to the operational phase – for easy quality assurance.
Availability: The BIM Add-On is available from June 7, 2021 and can be seamlessly integrated into existing Polysun solutions as an extension. A free trial version is available on the company website or upon request. Continuous development of the Polysun software as well as the BIM Add-On and associated updates enable a steady expansion of the range of functions.
Polysun enables simulation-based planning, design and optimization of holistic energy systems – both for buildings and for comprehensive quarters. Internationally, planners, architects, energy service providers, manufacturers and distributors of energy system components, and renowned research institutes rely on Polysun for detailed simulation of energy systems. Whether for the planning of the Überseeinsel in Bremen, on the part of energy suppliers such as Stadtwerke Düsseldorf or for sales support at manufacturers such as the Vaillant Group: Polysun offers the highest simulation accuracy for the respective planning processes. The software has extensive manufacturer-specific component data and combines components for covering heating, cooling and power requirements, such as electrical and thermal storage units, photovoltaic modules and heat pumps.
Seamlessly integrated simulation offers numerous advantages – for planners of energy systems and building technology right through to building owners: on the one hand, it presents planning processes transparently and enables planning to be adjusted and checked at any time, as well as providing a fact-based basis for decision-making. On the other hand, the high level of transparency from the early planning phase through to operation plays a significant role for the building owner, who now no longer has to rely exclusively on his expertise and that of his project partners, but has resilient data at his disposal.
"Digital simulation of renewable energy systems is an essential prerequisite in the smart planning of buildings and neighborhoods. The demand for our software solutions and services is increasing enormously. This is a trend that will intensify, especially in connection with model-based planning in BIM projects," says Angela Krainer, Managing Director of Vela Solaris.