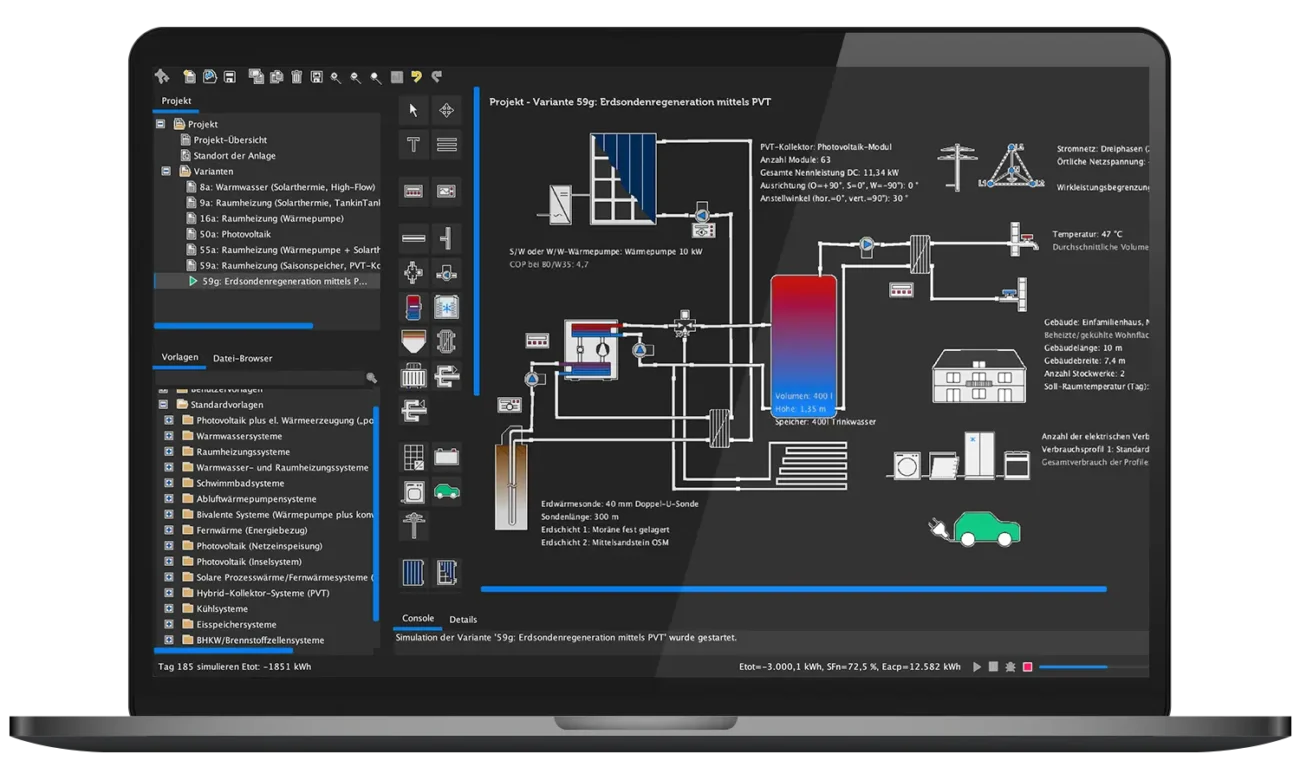 Polysun – Energy system simulations with precision
With the Polysun software from Vela Solaris you can rely on a multi-practice simulation of your energy system with reliable results in terms of functionality, energy efficiency and profitability – from single-family homes to districts, worldwide and for all market-standard technologies.
Polysun API –
Simulations in the cloud
The high-quality Polysun simulation computing power is also available as an API – for building innovative, data-based business models in the cloud.
Find out more
Exemplary uses
Single and multi-family homes
The main challenge when designing energy systems for single and multi-family homes is not so much the systems' complexity, it's the multitude of varieties of systems available on the market. However, be it air-to-water heat pumps, ground-source loops, pellet boilers or classical systems based on natural gas, photovoltaics, batteries or e-mobility, Polysun will make you more flexible and will equip you for the energy supplies of the future. Our Wizard as well as the numerous system templates in store will help you to project energy systems with minimal effort.
District heating
The importance of energy grids in the supply of thermal energy will rise, lowering the costs of sustainable energy delivery for the consumers. The design and the calibration of the sub-systems is complex, however, especially when thermal and electric systems are combined. With Polysun you are equipped for such challenges, freely combining greenfield solar panels as well as those on roofs, ground-source loop fields, solar thermal, co-generation units, heat pumps and many more.
Office buildings, shopping centers and clinics
Static calculation methods and classical, fossil fuel-powered energy systems may still be considered to be standard in this field. However, those wanting a sustainable concept with a view to the future, combining energy systems, will quickly experience the technical limitations of controlling logics. With the free system configuration and the programmable controller that Polysun offers, you will have a powerful tool in your hands to be one step ahead of the competition, being able to ensure the trouble-free operation of the facility from the drafting phase on.
Process heat and waste heat recovery
The coupling of solar process heat as well as the use of waste heat can help to both lower the energy cost in industrial processes and lower their emissions. Take advantage of the scope of Polysun's solar thermal calculations to integrate solar thermal energy up to and above 100 degrees centigrade in your processes, as well as in connection with other components, it goes without saying for us.
Previous
Next
Get to know us
Call or write to us and find out how Polysun software and Vela Solaris increases as partners increase your efficiency and provide you with more persuasive power.
Book appointments